Knowledge Centre
Raising children, or being responsible for elderly parents or close relatives can be very stressful, especially if you feel you don't have access to the right information
Our Knowledge Centre provides employees with expert advice over the phone, 24/7 access to our Insider Guides, plus a news digest and articles of interest for working parents and carers in On Our Minds.
Knowledge Centre is an integral part of the Work+Family Space that your employees will use to access the services you make available.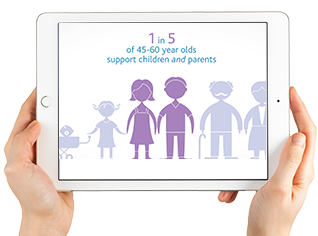 Speak to a Work+Family Expert
We're here to help your employees, from questions about care, to dealing with emotional, practical, parenting or work related issues.
While the Internet can provide many answers, sometimes speaking to a friendly expert is the easiest, quickest and cheapest way to help an employee find the solution they need.
Being a Dad
We have designed the Being a Dad service to bring dads the best advice to help make work+family really work. A fantastic range of articles for fathers is supported by quarterly webinars, and can be made available on your organisation's Work+Family Space website.
Insider Guides
Our library of invaluable, detailed guides make it easy to access the right information on a range of work+family issues including:
Childcare
Available benefits & support networks
Child benefits updates
Childcare options
Children's behavioural problems
Introduction to childcare
New parent information and advice
Pregnancy advice
School bullying and teenagers.
Adult & Eldercare
Caring for disabled dependents
Community care
Finding the right care in later life
Independent living in your own home
Paying for care
Residential and nursing homes.
On Our Minds
A collection of news stories and other articles that keeps busy working parents and carers up to date with things that matter to them.
Connecting with our other services
Your employees can access Knowledge Centre along with any services you choose to provide through a special Work+Family Space website created for you. It makes it very easy for them to access a wealth of information and services.
Backup Care helps employees find the best nanny, nursery, childminder, holiday club or domiciliary care available when usual care arrangements break down or last minute ones are needed.
Join the growing family of companies...

That help their employees through working with My Family Care. Get in touch to find out how we can make work+family work for you.
Supporting the employer brand
Providing unique and helpful resources to help employees with family related matters will contribute to an employee viewing their employer in a positive light.
Providing a starting point
Whether for an immediate answer or to help in thinking about solutions to potential situations before they occur, our unique resource provides a 'go to' place to start.
All of our Case Studies, Employer Guides, and White Papers can be downloaded throughout the site.
Build Your Pack
Regular work+family updates for
HR and diversity professionals.
Your employees will access our services via a customised website. You choose the services and the level of support. It's that easy.

Our unique and award winning
Emergency Childcare
allows working parents to book nannies, nurseries and childminders anywhere in the UK with as little as half an hours' notice.
Related Pages
Downloads