Implementing work+family initiatives can be measured; try using our ROI Calculator today.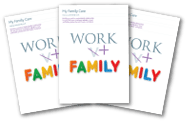 01/09/2015
02/09/2015
18/08/2015
Regular work+family updates for HR and diversity professionals.
Our unique and award winning Emergency Childcare allows working parents to book nannies, nurseries and childminders anywhere in the UK with as little as half an hours' notice.
The best work+family solution
for your company and its employees
We're passionate about helping employers establish the right childcare and eldercare solutions for their employees.
In order to attract, retain and engage the best talent, today's employers need to demonstrate family friendly policies. To do this you need to help staff manage their work commitments and achieve the best quality of life for themselves and their family.
We're uniquely positioned to help employers with their working parent

and carer strategies AND implement employee solutions.
Please get in touch to find out how we can make work+family work for you.
Ben Black, Founder, My Family Care
"
We realise the importance of helping our employees balance work and life... It has a direct impact on our business and the future of our organisation."
Head of Employee Benefits,
Leading investment bank
"
Our partnership with My Family Care means that our staff are better equipped to balance work and home commitments."
Head of Diversity & CSR,
Baker & McKenzie
"
My Family Care offered a fully integrated service that was flexible and most importantly met the needs of our workforce."
Policy and Diversity Manager,
Leading bank
Receive our Work+Family Update for HR and diversity: