About My Family Care
Making work+family work
If you're looking at specific ways to support your working parents and carers, or need advice on where to start, then we can help.
My Family Care is passionate about helping employers with their work+family strategies AND implementing employee solutions.
In a nutshell, we're about making work+family work.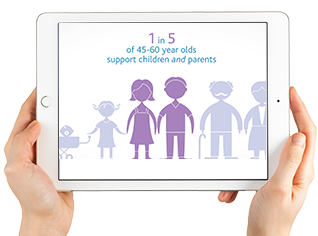 Achieving your family friendly goals
Working parents and carers offer a vital contribution to every organisation, and our vision is that every employer realises this opportunity. We believe that to really maximise engagement you need a seamless strategy that embraces everyone combining work and family commitments.
Setting strategy + providing practical solutions
Our expert team will work with you to understand your goals, set your strategy AND implement the best family friendly services package.
My Family Care is the leader in delivering family friendly solutions to companies all over the UK. We can help, whatever your company's size or sector. We have international coverage should you have offices in other parts of Europe.
We judge ourselves by the feedback we receive and we report to our clients regularly and transparently. Please read our history if you'd like to know more about our journey.
My Family Care group
Our group of businesses include Emergency Childcare, Tinies Childcare, Tinies Crèches, Tinies Nurseries, Nanny Share and Good Care Guide.
We also work in partnership with many leading names in the childcare and eldercare industry. Whatever your family friendly needs, we're expertly placed to assist.
Join the growing family of companies...

That help their employees through working with My Family Care. Get in touch to find out how we can make work+family work for you.

All of our Case Studies, Employer Guides, and White Papers can be downloaded throughout the site.
Build Your Pack
Regular work+family updates for
HR and diversity professionals.
Our unique and award winning
Emergency Childcare
allows working parents to book nannies, nurseries and childminders anywhere in the UK with as little as half an hours' notice.
Your employees will access our services via a customised website. You choose the services and the level of support. It's that easy.

Related Pages
Follow & Recommend