Emergency Childcare
Childcare breakdowns are an occupational hazard for all working parents. They happen on average 9 times a year*, and are major causes of absenteeism** and untold stress
In emergency cases, parents enjoy peace of mind from having a reliable backup in place. Their employers enjoy focused and engaged employees.
Who do I turn to in a care crisis?
Emergency Childcare assists working parents who experience a breakdown in care, whether it's planned or not. For example:
An unexpected business meeting
A sick child unable to attend nursery
A school or nursery closure
A full-time nanny or childcarer calling in sick.
How can Emergency Childcare help?
Parents can search for and book last minute Nannies, Nurseries and Childminders. Our success rate is 98% and the service can be used:
Online 24/7
Phone from 7.30am

With as little as 30 minutes' notice, or
Up to 3 months in advance.

We ensure the highest level of service quality to our clients and their employees. Our nannies are experienced, referenced, with enhanced DBS disclosures*** and first aid certified. We have a large network of nurseries and childminders - all regulated by Ofsted, the SCSWIS or CSSIW.
Our team actively encourages parents to recommend their preferred nurseries and childminders, so that their choice of childcarer can be booked in an emergency.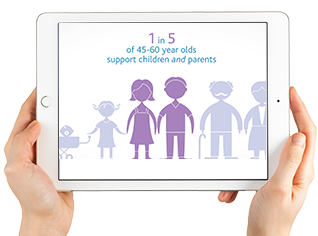 Every parent is different, every child is different...
And every childcare situation is different. An effective solution needs to be flexible enough to accommodate individual preference and circumstance. Our unique network of different childcare options allows any parent to choose the childcare they want, when they need.
My Family Care's services are highly flexible and can be tailored to suit the needs and budgets of your company.
Connecting with our other services
Your employees can access Emergency Childcare and other services you choose to provide through a special Work+Family Space website created for you. It makes it very easy for them to find and book the care that they need.
Most of our clients offer a complete Backup Care package by including Backup Adult & Eldercare and School Holiday Cover.
References

* Employee Advisory Resource's Employee Wellbeing Survey 2006 ** Employee Benefits Health Care Survey, April 2010 *** In December 2012 the Criminal Records Bureau (CRB) and the Independent Safeguarding Authority (ISA) merged to become the Disclosure and Barring Service (DBS). Tinies Childcare offers a DBS check screening service, should you need to check a full time nanny you are hiring.
Join the growing family of companies...

That help their employees through working with My Family Care. Get in touch to find out how we can make work+family work for you.
Focused and committed employees
Knowing their children are in safe hands when emergencies occur or childcare needs to arranged outside of the normal pattern, means more focused, less distracted and more flexible employees.
Reducing absenteeism effectively
Childcare is regularly cited a key cause of absenteeism in. Sometimes it's right for a staff member to leave work to care for a dependent, but usually it is avoidable with the right backup care.
Retention of valued employees
Working parents whose employers actively support them in making work+family work are more likely to feel valued and more loyal as a result.
Peace of mind
Childcare is a natural preoccupation of the working parent. Providing a 'safety net' in case of emergencies means employees have one less thing to worry about.
Security and employer commitment
Benefit solutions like Emergency Childcare demonstrate to the employee that their employer is committed to working parents.
Supporting domestic harmony
Having a 'backup plan' means that in households where both partners work, there is no longer the need for the 'who stays home?' debate.
All of our Case Studies, Employer Guides, and White Papers can be downloaded throughout the site.
Build Your Pack
Regular work+family updates for
HR and diversity professionals.
Your employees will access our services via a customised website. You choose the services and the level of support. It's that easy.

Book Childcare
Related Pages
Downloads