Parental Leave Project™
My Family Care has developed a highly accessible way of providing coaching and wraparound support to your employees going through the transition to parenthood; ensuring you're ready for Shared Parental Leave in 2015
Parental Leave Project™ is a fully supported online coaching programme for your employees. Download our Employer's Guide.
Shared Parental Leave
Maternity coaching has evolved and developed over the last decade to meet the needs of both organisations and individuals.
However, as a form of leadership coaching, it has mostly been reserved for those in the most senior roles, largely due to the high expense of providing 1:1 meetings or facilitating on-site groups.
Flexible or remote working and employees in different locations can also add to the challenge.
As companies implement Shared Parental Leave, fathers and same sex partners (as well as adoptive parents) need to be taken into account.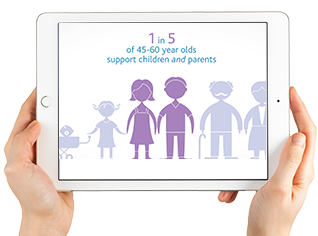 Retaining talented working parents
So how do you solve the cost and accessibility issues to help more of your talent through the transition to parenthood?
Parental Leave Project™ is a complete online coaching package.
You can provide this as a standalone programme for all your employees. And you can enhance it for certain employee groups by adding 1:1 leadership coaching meetings, or My Family Care mentor calls.
How does our online parental leave coaching work?
Coaching webinars
We've created a rolling programme of three interactive webinars, one for each stage of the new parent journey.
Webinars are delivered by a team of two presenters from My Family Care; a highly qualified and experienced Leadership Coach and one of our Childcare Consultants.

Online coaching toolbox
The 'Coaching Toolbox' is our online resource that helps, challenges and equips users to address the demands facing them at each stage of the journey. The aim is to help the user take a proactive, confident approach to keep his/her career on track throughout the transition, while acknowledging their new life role.
The Toolbox is specifically designed to address the key transition stages:
Complementing and adding to the staged webinars, it provides downloadable tools and frameworks relevant to the phases before leave, during leave and on return as well as an overview with further resources.
Online coaching dashboard
In the 'Dashboard' users can see at a glance the most effective tool to complete next and log their progress to keep their 'project' on track. It helps us keep in touch and send the right reminders and support at the right time.
Our leadership coaches and mentors
Parental Leave Project™ can be tailored so you can add 1:1 leadership coaching for key individuals at the 3 key stages of their transition.
Connecting with our other services
Childcare Search helps employees put long term care solutions in place. Our clients find this service especially useful as part of their new parent retention strategies, as finding appropriate childcare is seen by new mothers as the biggest hurdle to returning to work.
Join the growing family of companies...

That help their employees through working with My Family Care. Get in touch to find out how we can make work+family work for you.
Cost effective maternity and paternity coaching
Parental Leave Project provides an innovative and cost effective means of delivering maternity coaching and paternity coaching to a broad audience. As an online programme, is highly accessible and 'just in time'. It also means the costs are much lower that those previously associated with traditional maternity coaching.
Customisable to suit your needs and employees
Our online coaching programme is highly flexible. You can sign up to offer this support to just one individual, or to all those going through the transition. You can provide the core programme to all and enhance it with mentoring or coaching for different groups of employees.
Trackable and measurable
We'll provide you with regular reports on online coaching sign-ups, user feedback and take-up of webinars. You'll be able to track and understand clearly the engagement benefits for your employees and your company.
Access to high level coaching experience
Parental Leave Project draws on the 'best in class' leadership coaches and coaching expertise of My Family Care. The programme distils many years' experience of supporting men and women in banking, legal and professional services, and wider sectors into a highly accessible programme relevant to all.
The right parental leave support, when employees need it
Individual employees can choose when they want to attend webinars, and all the tools and online resources can be used at the user's convenience at work or at home.
Support and guidance
We guide users through the programme with their online Parental Leave Project 'Dashboard'. This keeps them on track and helps them to work through all the stages. This is a fully standalone programme that delivers a complete coaching package.
All of our Case Studies, Employer Guides, and White Papers can be downloaded throughout the site.
Build Your Pack
Regular work+family updates for
HR and diversity professionals.
Your employees will access our services via a customised website. You choose the services and the level of support. It's that easy.

Related Pages
Downloads