Our Services
Working together to build the best work+family solution for your company and its employees
Making work+family work
My Family Care has a wealth of experience in advising on, and implementing family friendly practices in a wide variety of businesses.
Combine this with a thorough understanding of care provision and you can see why we're in such a strong position to help other enlightened employers to do the same.
We can provide help right the way through from the strategic to the solutions stage. It's entirely up to you and what your company needs.
Our Work+Family Space is how your employees access all our services.
We are happy to arrange an online demo if you would like to know more.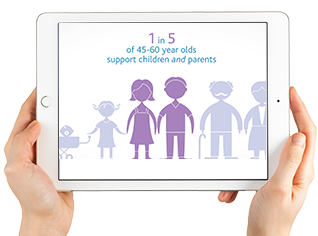 Setting the strategy
With senior leaders and stakeholders
We take a straightforward approach. We work in partnership with our clients to think through and audit their current situation, understanding exactly what they want to achieve.
From facilitating senior roundtable discussions to providing legal and policy briefings and specific sector insights, we can advise on best practice in all parent and carer related areas.
We help develop the most appropriate family friendly policies, working practices and employee services.
Developing internal capability
With HR teams
Making the most of a company's existing resources is always a priority.
Through bespoke coaching and mentoring programmes, workshops and e-learning resources, we can develop internal HR capability. We make sure the skills and commitment are in place to deliver the agreed strategy.
We can develop internal coaching skills to address the life transitions that really matter, from maternity and paternity return, to managing eldercare responsibilities and work. We can 'train the trainer' so that your HR teams are better equipped to brief and guide line managers.
Enhancing managers' skills
With line managers
Sometimes for reasons of limited resource, confidentiality or simply to provide a new perspective, companies may need or want to use external resource to support their line managers.
We provide workshops, e-learning resources and one-to-one coaching to enhance managers' abilities in supporting employees on a range of work+family related matters.
We can also provide modules to drop into the wider management development programmes that may be running.
Delivering practical solutions
For employees
We work with our clients to put in place the practical solutions.
Our comprehensive coaching programmes for individuals, Backup Care services, Care Search and other solutions can all be tailored to suit current needs, future objectives and budgets.
Our suite of services

All of our Case Studies, Employer Guides, and White Papers can be downloaded throughout the site.
Build Your Pack
Regular work+family updates for
HR and diversity professionals.
Your employees will access our services via a customised website. You choose the services and the level of support. It's that easy.

Related Pages
Follow & Recommend