Jennifer Liston-Smith, our Director of Coaching & Consultancy, explores practical solutions for enabling and equipping managers to be family-friendly.
We need to talk about managers...
"Oh, and should we do something for managers, too?".
This comes up almost as an afterthought as we gather up papers from scoping out a maternity coaching programme with a client. And that's even when we've emphasised, as usual, early on that managers are an integral part of making it happen. It's often put conveniently aside, since everyone knows the managers challenge is quite hard to tackle.
At My Family Care, when we first touch upon the topic of engaging and retaining people at work with family responsibilities, we outline the need to tackle the practical aspects along with the developmental / emotional aspects and also the culture.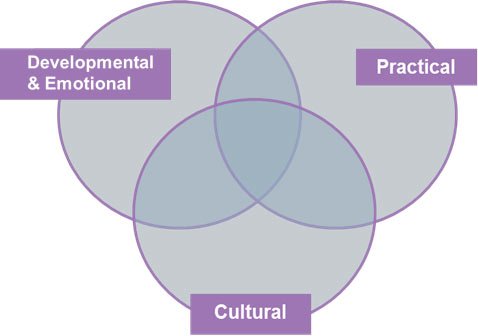 The practical side includes support with finding care solutions, having Backup Care in place, technology to support remote working, and so on.
The emotional / developmental side embraces coaching and leadership development for individuals who are integrating work and family. Overarching all of this, the culture looms large. An enabling culture involves senior sponsorship, great policies well communicated, a view of flexibility as a smart way of doing business (instead of a favour for some) and having managers aware, equipped and bought in.
It sounds easy, on paper.
Putting it into practice
So what are the options? Clearly they include:
Group coaching for managers using case studies to stimulate an exchange of practice and guidance on tackling tricky conversations
Virtual versions of the above, such as live webinars, engaging participants through polls and questions
On demand resources, such as recorded webinars, e-learning and downloadable tools
Variations on 1:1 coaching for managers, such as a bank of coaching sessions to be used as needed, or else including as part of maternity coaching a facilitated discussion between manager and maternity leaver, with the coach as mediator
Enhancing internal capability: we often work with HR and Diversity practitioners to co-create tools and roadmaps for managers and we support internal capability to conduct those briefings with managers.
Preaching to the converted
All of the above programmes have a positive impact, and a blended solution is often the key. One of the things that worry those deciding what to implement is that - as we all know - managers are a group of individuals and (dare we admit?) their approach and personal capability will vary widely. The concern is that if any briefing or training is optional or voluntary, then those who come will be those who are already doing this well. And surely that's pointless?
Well, not exactly. In fact, it is always the "converted", gathered together and re-inspired, given new tools to bring consistency and recognised for having the vision and interest in the first place who will make a difference. They go on with new vigour after a managers' training session and they now have allies who have sat together in the room. It amplifies positive culture change.
How sensibly this fits with business aims
Those who are somewhat on the fence, or downright opposed do often attend, too, in our experience. We have seen them become the greatest advocates of having better conversations when they see how sensibly this fits with business aims; and that it's about making things happen, and not just all about being nice.
In amongst all this, we need to bear in mind that managers themselves are increasingly busy, under pressure, lacking time and are often in the midst of balancing career and family themselves, in what can seem like a roundabout they can't get off.
So the whole tone of managers' support in this area must recognise this, respect and acknowledge their position and provide them with actionable, practical frameworks and down-to-earth solutions.
Begin with the end in mind
Unlike the meeting described above, the engagements we like best are where we start out with a phase in which we gather all the stakeholders round the table to find out what current practice looks like, what the issues are and what impact is needed.
We do this more and more as part of partnering with leading clients in this area.
Like the second habit in Stephen Covey's 7 Habits of Highly Effective People, if we start out with the vision in mind for where we are heading, it will become really clear what the organisation's own managers need, what they will buy into and how it needs to be delivered. And the managers in turn will see it is a well thought through plan, worth their effort and attention.
Jennifer Liston-Smith, My Family Care